4th Life Science Start-Up Day - 25.04.23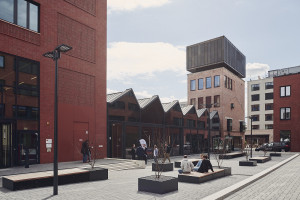 A short trip to the university city of Göttingen.
Life Sciences is an important industry in the market. From decoding the human genome to developing cutting-edge therapies, from precision medicine to digital health solutions, life science has become the driving force behind transformative changes in the healthcare landscape - all to improve the quality of life of organisms.
Therefore, by providing a platform for knowledge sharing, networking and showcasing breakthroughs, thought-provoking events such as Life Science Day on 25th of April are pivotal in promoting the development of innovation and boosting the growth of the life sciences sector.
The BioIntelligence Team participated the 4th Life Science Start-Up Day in Life Science Factory, Göttingen. Our managing and programme directors, Jan Fischer & Jacqueline Rudolph, had the honour of moderating the start-up pitches, where our batch of start-ups, CaBiDi Drug Delivery UG, Allogenetics GmbH, Plantilizer GmbH & NeuroXR UG, also had the chance to do their pitches.
"Events like the Life Science Start-up Day in Göttingen provide a platform for entrepreneurs, researchers, and investors to connect, exchange ideas, and create valuable partnerships ultimately contributing to advancements in healthcare and biotechnology."
Aside from start-up pitches, influential figures, entrepreneurs, and investors were also present for a panel discussion, where participants can ask questions and explore beyond the sciences. Their insights and vision to the future act as a driving force to the growth in our society.
Overall, it was inspiring to see so many talented researchers and entrepreneurs come together to share their ideas and make valuable connections. Big thumbs-up and applause to all the pitchers who took the stage and impressed us with their passion and creativity.
And of course, thank you to Life Science Factory for this opportunity.
We can't wait to see what the future holds for this innovative community 🚀